Net foreign volume was positive before the Eid Al-Fitr joint holiday, totaling 223 million shares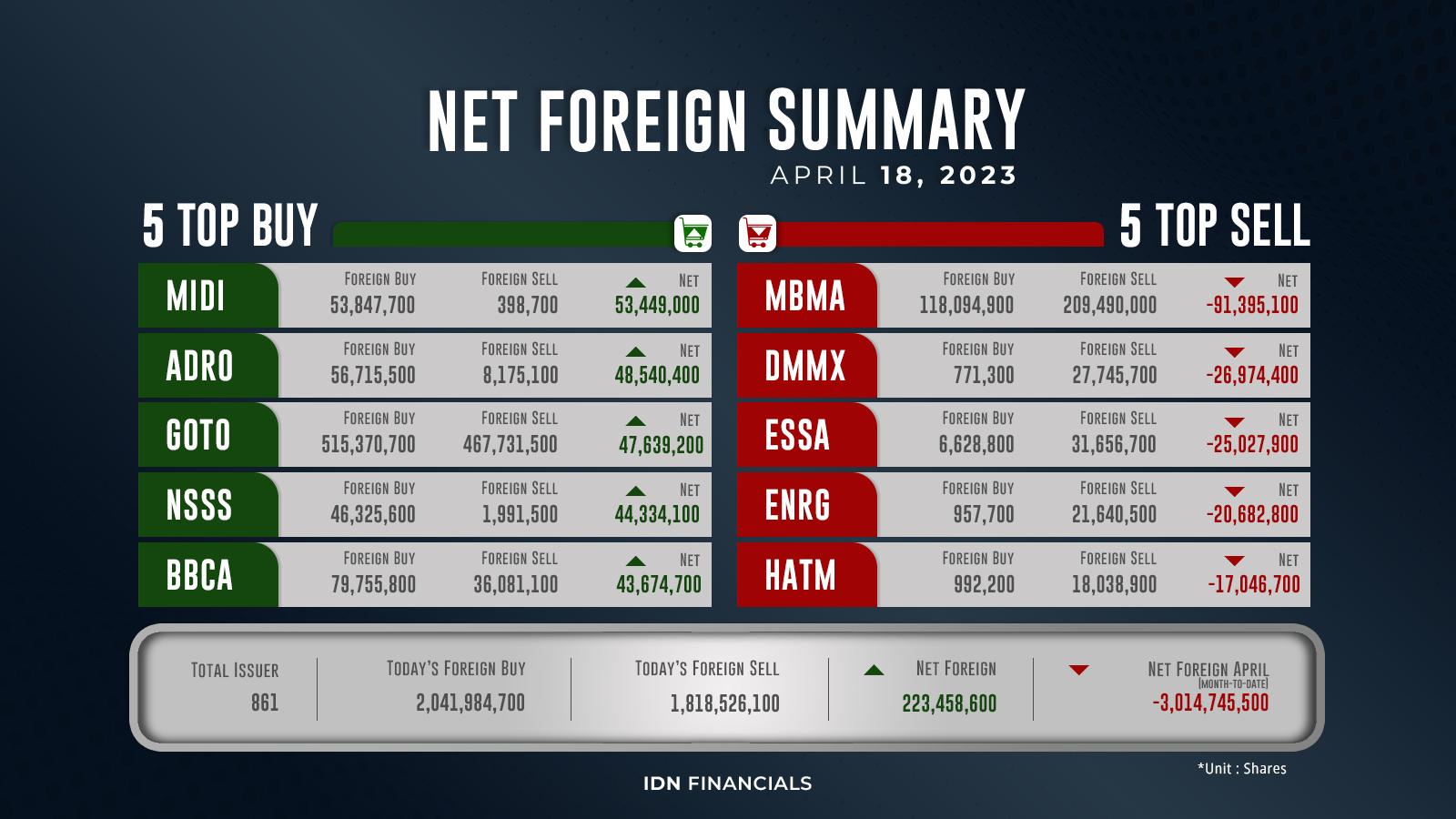 ENRG - PT. Energi Mega Persada Tbk
Rp 272
JAKARTA - On Tuesday, April 18, ahead of the Eid Al-Fitr 1444 H holiday, which began on April 19, 2023, net foreign volume was positive at 223,458,600 shares. The total number of shares purchased by foreign investors was 2.04 billion, while the total number of shares sold was 1.1 billion. This time, the share with the lowest net volume was MBMA from PT Merdeka Battery Materials Tbk, a manufacturer of electric vehicle batteries. Foreign investors sold 209.49 million MBMA shares, for a net volume of approximately -91.39 million. Meanwhile, foreign investors purchased 53.84 million shares of PT Midi Utama Indonesia Tbk (MIDI), the Alfamidi retail issuer, with the highest net volume this time at 53.44 million.

Apart from MIDI, the net volumes of other issuers on the top buy list range between 40 and 50 million shares. First, PT Adaro Energy Indonesia Tbk (ADRO) and PT GoTo Gojek Tokopedia Tbk (GOTO) had net volumes of 48.54 million ADRO and 47.63 million GOTO, respectively. However, foreign purchases of GOTO totaled 515.37 million shares, while ADRO shares were purchased for only 56.71 million shares. Furthermore, PT Nusantara Sawit Sejahtera Tbk (NSSS) and PT Bank Central Asia Tbk (BBCA) recorded a net volume of approximately 44 million shares, with NSSS recording a sales volume of 46.32 million and BBCA tracking a sales volume of 79.75 million shares.

The net volumes of the top-sell shares, on the other hand, were quite distinct from MBMA. PT Digital Mediatama Maxima Tbk (DMMX) was in second place with -26.97 million shares, while PT Surya Esa Perkasa Tbk (ESSA) was in third place with -25.02 million shares. According to reports, foreign investors have released 27.74 million DMMX shares and 31.65 million ESSA shares. These investors also sold 21.64 million shares of PT Energi Mega Persada Tbk (ENRG), bringing the net volume to around -20.68 million shares. Finally, PT Habco Trans Maritima Tbk (HATM) recorded a net volume of -17.04 million shares after foreigners sold 18.03 million of its shares. (KD)

Read on for net foreign news on IDNFinancials!