With a net foreign volume of 1.5 billion, GOTO shares are still dominating the foreign purchases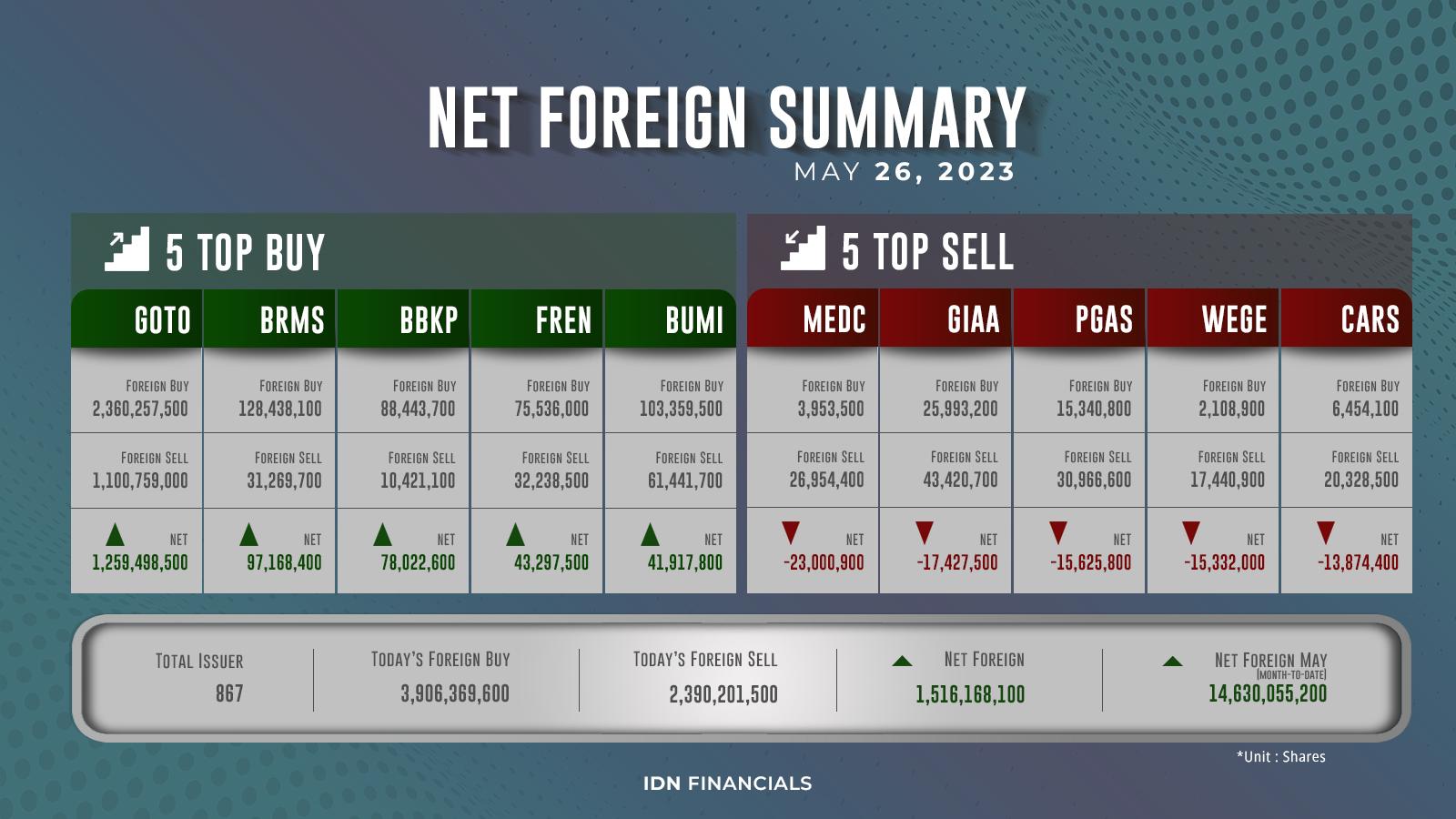 BUMI - PT. Bumi Resources Tbk
Rp 137
JAKARTA - Net foreign volume was still closed with a high volume of 1,516,168,100 shares at the end of the fourth week of May, Friday (May 26). Approximately 3.90 billion shares were reportedly purchased by foreigners on the Indonesian stock market, while 2.39 billion shares were sold in total. PT GoTo Gojek Tokopedia Tbk (GOTO), which dominated the foreign purchases with a total of 2.36 billion GOTO and the highest net volume at 1.25 billion shares, was once again in the spotlight.

Along with GOTO, shares of the mineral mining company PT Bumi Resources Minerals Tbk (BRMS) and its holding company PT Bumi Resources Tbk (BUMI) were also purchased by foreign investors in sizeable quantities, at approximately 128.43 million BRMS and 103.35 million BUMI. However, BUMI only recorded less than half of BRMS's net volume, at 41.91 million shares, as opposed to 97.16 million shares for BRMS. Then, foreign investors bought 75.53 million shares of telecommunications issuer PT Smartfren Telecom Tbk (FREN) and 88.44 million shares of private bank PT Bank KB Bukopin Tbk (BBKP). The net volumes of the two are also very different, with BBKP having a net volume of about 78.02 million compared to FREN's net volume of only about 43.29 million.

With a net volume of -23 million shares, foreign investors actually sold 26.95 million shares of PT Medco Energi Internasional Tbk (MEDC), an oil and gas issuer. After foreigners sold 43.42 million of its shares, PT Garuda Indonesia (Persero) Tbk (GIAA) Corporation followed with a net volume of -17.42 million. PT Perusahaan Gas Negara (Persero) Tbk (PGAS) and construction and concession issuer PT Wijaya Karya Bangunan Gedung (WEGE) are two additional companies that reported negative net volumes of roughly 15 million shares each. While only 17.44 million WEGE shares were sold by foreigners, they did sell 30.96 million PGAS shares. Lastly, a total of 20.32 million shares were sold by PT Industri dan Perdagangan Bintraco Dharma Tbk (CARS), with a net volume of -13.87 million. (KD)

Get net foreign news only at IDNFinancials!