Foreign investors purchased 4.35 billion GOTO shares, resulting in 1.22 billion in net foreign volume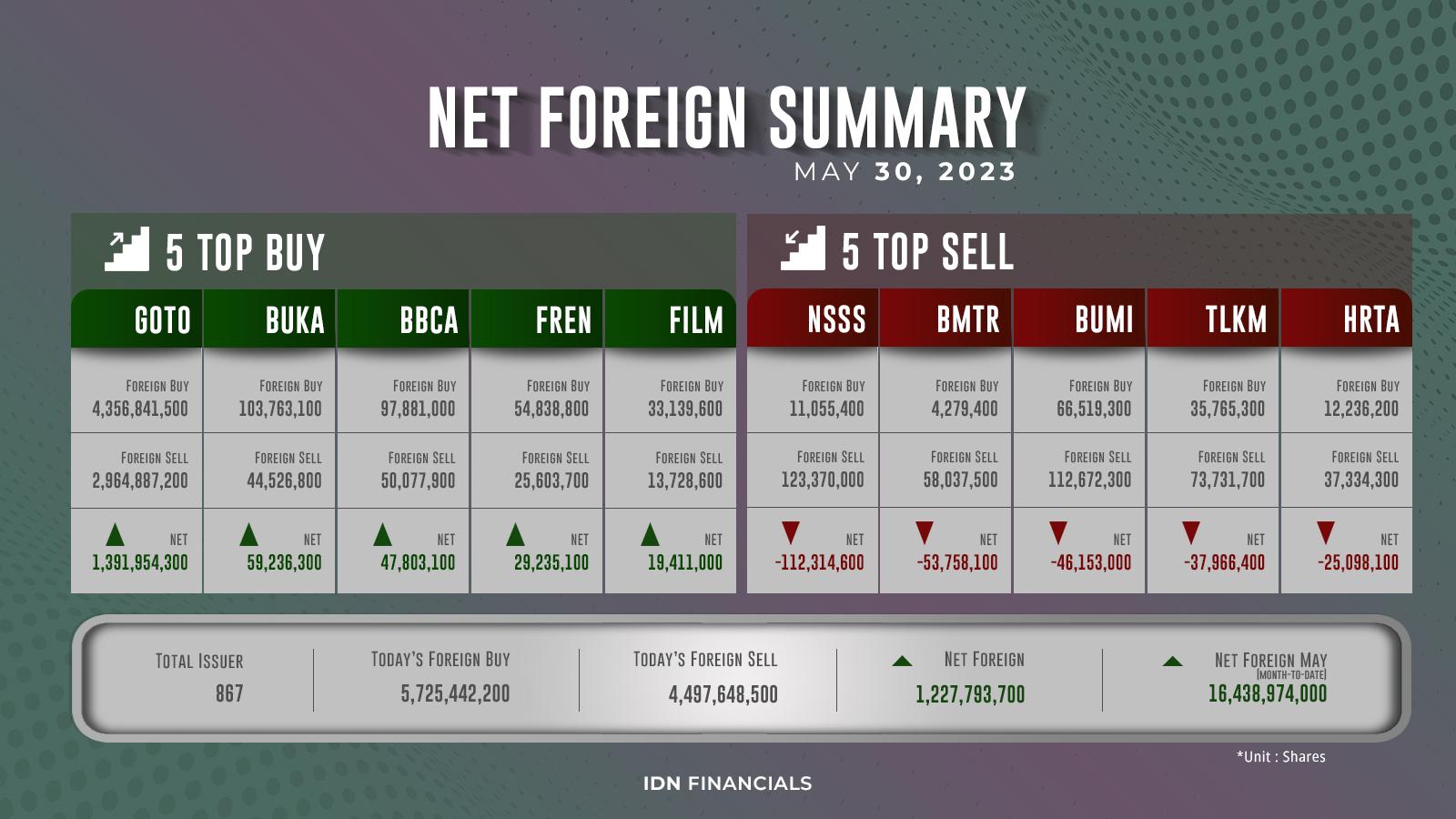 BUMI - PT. Bumi Resources Tbk
Rp 138
JAKARTA - On Tuesday, May 30, more than 4.35 billion shares of PT GoTo Gojek Tokopedia Tbk (GOTO) were purchased by foreign investors. This amount boosted the volume of foreign purchases to 5.72 billion shares, while the overall volume of foreign sales was around 4.49 billion shares. Net foreign volume increased as a result, reaching 1,227,793,700 shares. The net volume for GOTO itself was around 1.39 billion shares, which was once again the highest. Meanwhile, with a sales volume of 123.37 million shares, PT Nusantara Sawit Sejahtera Tbk (NSSS) then posted the lowest net foreign volume at -112.31 million shares.

Still from the top buy list, the shares of e-commerce issuer PT Bukalapak.com Tbk (BUKA), which were bought by foreigners for 103.76 million, were in second place with a net volume of 59.23 million. Private bank issuer PT Bank Central Asia Tbk (BBCA), which had a net volume of 47.0 million shares resulting from foreign purchases of 97.88 million shares, came in next. Foreign investors also purchased 54.83 million shares of telecommunications company PT Smartfren Telecom Tbk (FREN), for a net volume of around 29.23 million shares, as well as 33.13 million shares of production company PT MD Pictures Tbk (FILM), for a net volume of 19.41 million shares.

In the meantime, foreigners actually sold 58.03 million shares of the media company's stock, PT Global Mediacom Tbk (BMTR), causing BMTR's net volume to trail NSSS by -53.75 million shares. Although the volume of shares sold in energy company PT Bumi Resources Tbk (BUMI) was bigger, at 112.67 million, its net volume was still slightly higher than BMTR's, at -46.15 million shares. PT Telkom Indonesia (Persero) Tbk (TLKM)'s shares, which had about 73.73 million shares sold and a net volume of -37.96 million, were also sold in significant quantities. Lastly, foreign investors sold shares of PT Hartadinata Abadi Tbk (HRTA), a manufacturer of gold jewelry, for 37.33 million, and the net volume ended at minus 25.09 million shares. (KD)

The latest net foreign news can be found on IDNFinancials!