Bank Mandiri will pay the most money out of the 20 bonds that will mature in September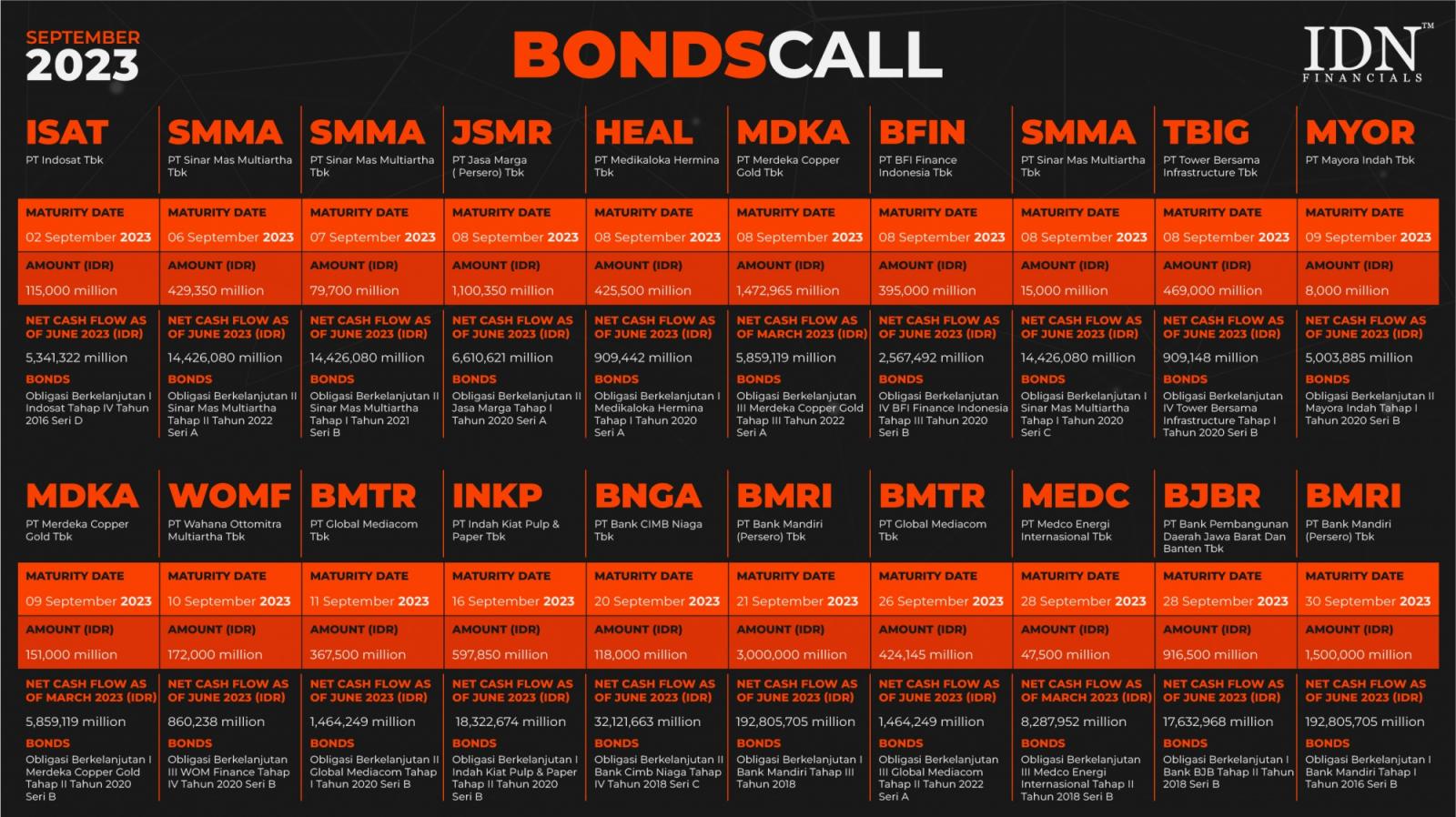 MEDC - PT. Medco Energi Internasional Tbk
Rp 1.125
JAKARTA - In September 2023, twenty bonds from fifteen different issuers will mature. Companies from various sectors will pay their maturing bonds to their investors, beginning with banking, mining, infrastructure, and media. Bank Mandiri investors should brace themselves because PT Bank Mandiri (Persero) Tbk (BMRI) will disburse IDR 4.5 trillion to pay its two bonds that mature at the end of the month.

On September 2, the first bond due to mature this month is from PT Indosat Tbk (ISAT). The bond debt of this telecommunications company is IDR 115 billion. Furthermore, PT Sinar Mas Multiartha Tbk (SMMA), a Sinar Mas Group financial services provider, will pay three different bonds in three consecutive days, beginning September 6–8. Sinar Mas Multiartha will pay IDR 429.35 billion on the first day, IDR 79.70 billion on the second day, and IDR 15 billion on the last day.

On September 8, five bonds are also set to mature, beginning with an IDR 1.1 trillion bond from toll road developer and operator PT Jasa Marga (Persero) Tbk (JSMR), followed by an IDR 425.5 billion bond from health services provider PT Medikaloka Hermina Tbk (HEAL). Following that, leasing and consumer finance firm PT BFI Finance Indonesia Tbk (BFIN) will pay IDR 395 billion in debts, followed by telecommunications infrastructure firm PT Tower Bersama Infrastructure Tbk (TBIG) with IDR 469 billion in debts. Not only that, but the mining company PT Merdeka Copper Gold Tbk (MDKA) will pay its investors IDR 1.47 trillion on the 8th, followed by an IDR 151 billion bond payment the next day.

Bonds worth IDR 8 billion from PT Mayora Indah Tbk (MYOR) are also set to mature on September 9. The next day, PT Wahana Ottomitra Multiartha Tbk (WOMF), a provider of auto financing, will be required to pay bonds totaling IDR 172 billion. PT Global Mediacom Tbk (BMTR), a MNC Group media company, will also pay a bond debt of IDR 367.5 billion on September 11. Additionally, Global Mediacom has other bonds totaling IDR 424.14 billion that will mature on September 26.

On September 16, PT Indah Kiat Pulp & Paper Tbk (INKP) will pay an IDR 597.85 billion bond, followed by an IDR 118 billion bond from PT Bank CIMB Niaga Tbk (BNGA) on September 20. The national bank, PT Bank Mandiri (Persero) Tbk (BMRI), will disburse IDR 3 trillion in fresh funds the next day, on the 21st. It doesn't stop there; Bank Mandiri also has IDR 1.5 trillion in bonds maturing at the end of the month, on September 30. This month alone, Bank Mandiri will spend a total of IDR 4.5 trillion to pay its bond investors.

Lastly, two bonds from two publicly traded issuers will mature on September 28. The first is an IDR 47.5 billion bond issued by PT Medco Energi Internasional Tbk (MEDC), an oil and gas exploration and production company. Finally, PT Bank Pembangunan Daerah Jawa Barat dan Banten Tbk (BJBR) will pay the IDR 916.5 billion bond debt. (KD)

IDNFinancials is the only place to go for bond information!