Foreign purchase volumes total 4 billion, resulting in a 581 million-share surplus in net foreign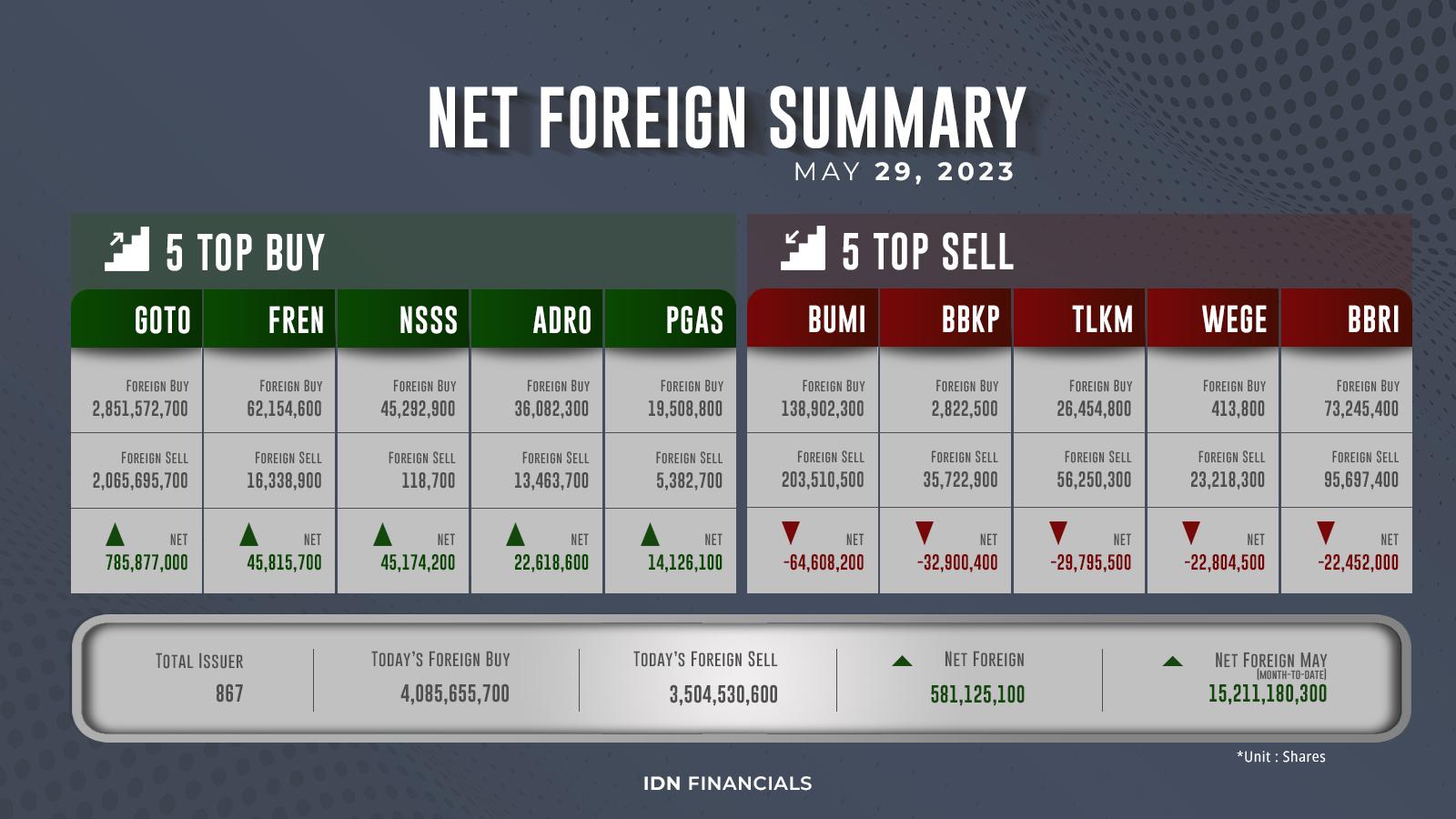 BUMI - PT. Bumi Resources Tbk
Rp 102
JAKARTA - On Monday, May 29, foreign investors bought more than 4 billion shares, or 4.08 billion shares to be exact, of Indonesian stocks. However, since only 3.50 billion shares were sold, there has been a surplus of 581,125,100 shares in the net foreign volume this time. It's interesting to note that after foreign investors acquired 2.85 billion GOTO shares, the net volume of PT GoTo Gojek Tokopedia Tbk (GOTO) is even higher, reaching 785.87 million shares. However, PT Bumi Resources Tbk (BUMI) shares had the lowest net volume, coming in at around -64.40 million after 203.51 million of its shares were sold by foreigners.

Following GOTO, PT Smartfren Telecom Tbk (FREN) and PT Nusantara Sawit Sejahtera Tbk (NSSS) both reported net volumes of approximately 45 million shares. While NSSS reported selling about 45.29 million shares, FREN's purchase volume was slightly higher at 62.15 million shares. Additionally, foreign investors bought 36.08 million shares of coal issuer PT Adaro Energy Indonesia Tbk (ADRO) with a net volume of 22.61 million shares, and they also bought 19.50 million shares of PT Perusahaan Gas Negara Tbk (PGAS) with a net volume that ended up being 14.12 million shares.

PT Bank KB Bukopin Tbk (BBKP), in contrast, trailed BUMI with the second-lowest net volume of -32.90 million shares and a volume of 35.72 million from foreign sales. Then, shares of PT Telkom Indonesia (Persero) Tbk (TLKM) totaling up to 56.25 million were also sold, bringing the net volume down to almost -30 million. Finally, two issuers—PT Wijaya Karya Bangunan Gedung Tbk (WEGE) and PT Bank Rakyat Indonesia (Persero) Tbk (BBRI)—recorded net volumes of minus 22 million shares each. However, compared to WEGE, which only sold about 23.21 million shares, the amount of BBRI shares sold by foreign investors—95.69 million shares—was significantly higher. (KD)

Get the latest net foreign news only on IDNFinancials!