Turning green, net foreign volume is at a surplus of 95 million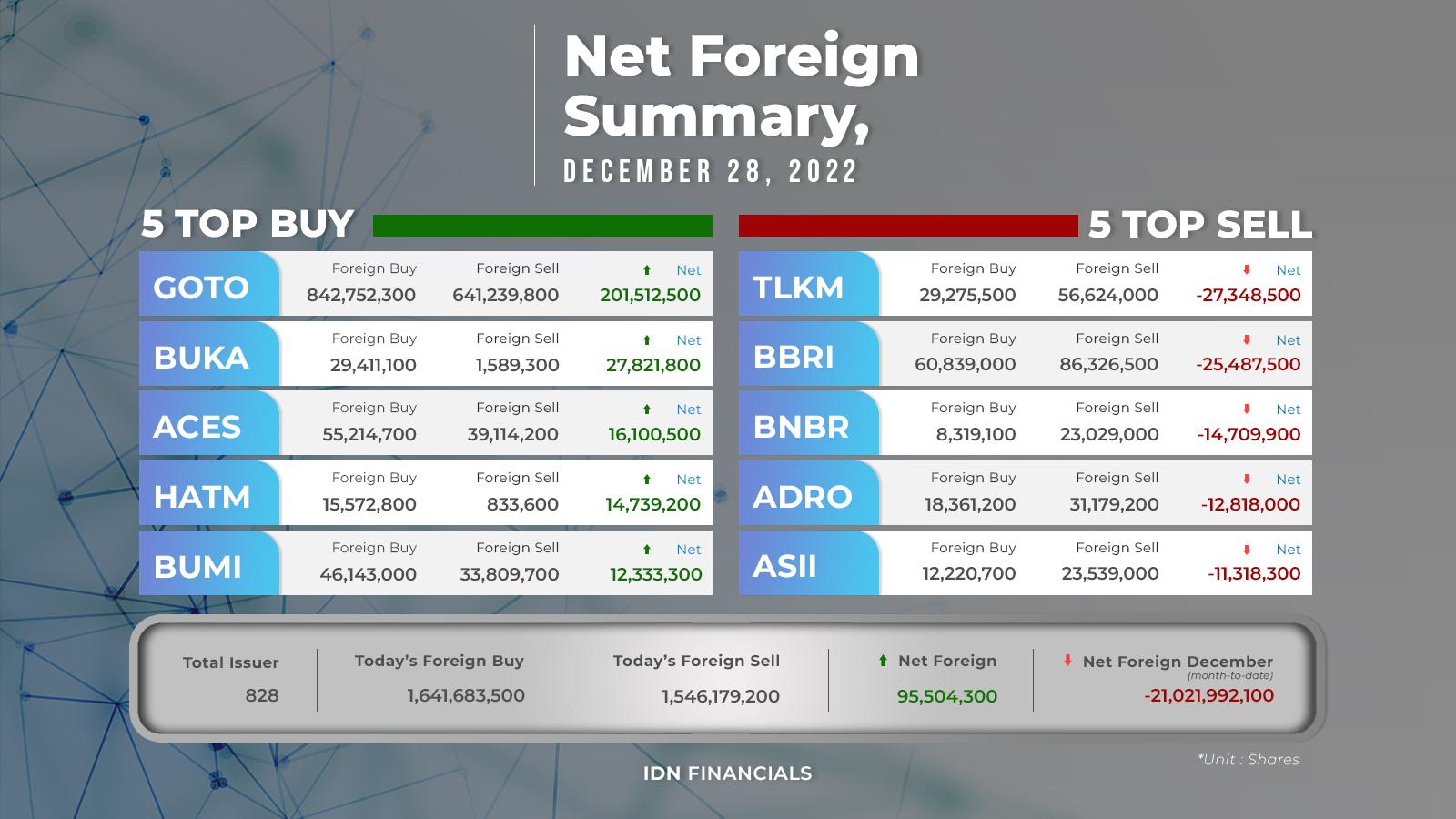 BUMI - PT. Bumi Resources Tbk
Rp 138
JAKARTA - After a long period in the red, net foreign trade volume finally turned positive on Wednesday, December 28. Foreigners purchased 1.64 billion shares, which was 95,504,300 shares more than the number of shares sold. Interestingly, PT GoTo Gojek Tokopedia Tbk (GOTO) had a surplus of 201.51 million shares this time after being purchased by foreign investors in a volume of 842.75 million shares.

Other than GOTO, the net volume of other issuers on the top-buy side does not appear to be particularly large. PT Ace Hardware Indonesia Tbk (ACES) shares were the second most popular, with foreign investors purchasing 55.21 million but receiving only 16.1 million shares. Following that, foreigners purchased 46.14 million shares of PT Bumi Resources Tbk (BUMI) for a net volume of 12.33 million. The foreign portfolio also added 29.41 million shares of PT Bukalapak.com Tbk (BUKA) and 15.57 million shares of PT Habco Trans Maritima Tbk (HATM).

This time, two state-owned companies became the issuers with the lowest net volume in foreign sales. PT Telkom Indonesia (Persero) Tbk (TLKM) and PT Bank Rakyat Indonesia (Persero) Tbk (BBRI) reported a net volume of more than minus 25 million shares after foreigners released their shares, totaling 56.62 million and 86.32 million, respectively. Furthermore, foreign investors sold 23.02 million shares of PT Bakrie & Brothers Tbk (BNBR), 31.17 million shares of PT Adaro Energy Indonesia Tbk (ADRO), and 23.53 million shares of PT Astra International Tbk (ASII). The last three issuers reported net volumes ranging from 11 to 14 million shares. (KD)

Read on for net foreign news on IDN Financials!