On the second trading day of 2023, the volume of foreign trade rose 400%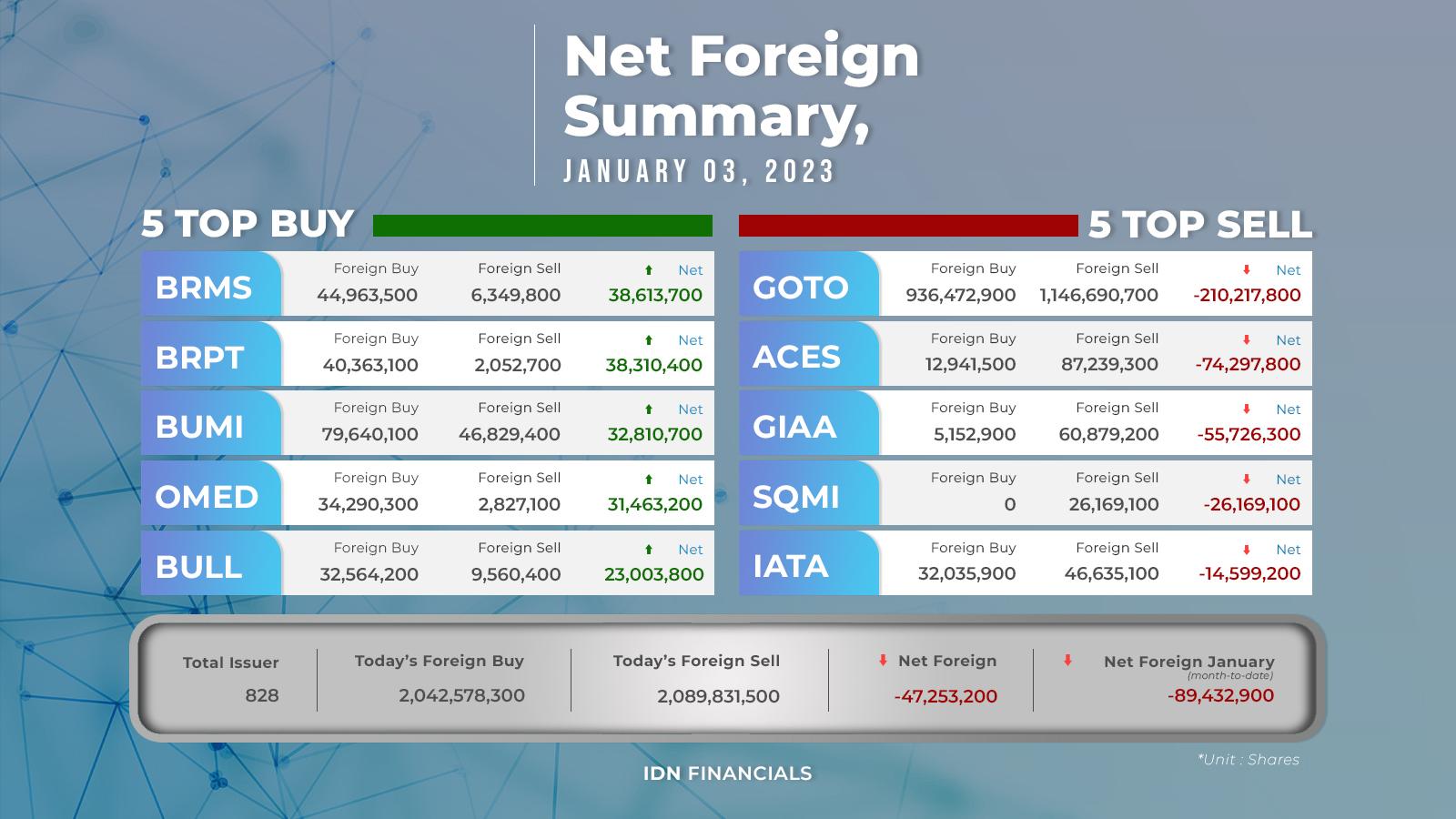 BUMI - PT. Bumi Resources Tbk
Rp 109
JAKARTA - On Tuesday, January 3, the transaction volume of foreign investors increased 400% from the previous day to more than 2 billion shares, both for foreign purchases and sales. To be more exact, foreign investors purchased 2.04 billion shares and sold 2.08 billion, resulting in a negative net volume of 47.25 million shares. PT GoTo Gojek Tokopedia Tbk (GOTO) shares were in the spotlight because they were sold in large quantities by foreigners, totaling 1,146,690,700 shares with a net volume of a negative 210,21 million shares.

Foreigners also let go of shares in other issuers, though not in the same volume as GOTO. First, foreign shareholders sold 87.23 shares of PT Ace Hardware Indonesia Tbk (ACES), resulting in a net volume of minus 74.29 million. Following that, foreigners sold 60.87 million shares of PT Garuda Indonesia (Persero) Tbk (GIAA) with a net volume of -55.72 million, as well as 26.16 million shares of PT Wilton Makmur Indonesia Tbk (SQMI) without purchasing any shares. Then, foreign investors sold 46.63 million shares of PT MNC Energy Investments Tbk (IATA), resulting in a net volume of a negative 14.59 million shares.

In comparison to the issuers mentioned above, the top-buy list appears to be fairly stable, with a net volume of around 30 million shares. PT Bumi Resources Tbk (BUMI) had the highest foreign purchase, selling 79.64 million units with a net volume of 32.81 million shares. The highest net volume, however, was achieved by PT Bumi Resources Minerals Tbk (BRMS) and PT Barito Pacific Tbk (BRPT), both at around 38 million shares. According to reports, foreign investors purchased 44.96 million BRMS shares and 40.36 million BRPT shares. With foreign sales of 34.29 million, the shares of medical equipment issuer PT Jayamas Medica Industri Tbk (OMED) appeared to be quite appealing, as did the shares of PT Buana Lintas Lautan Tbk (BULL), which were sold in as many as 32.56 million shares. (KD)

Always update your net foreign information at IDN Financials!