Bobby Gafur Umar increased his stake in PT Maharaksa Biru Energi Tbk by 1.2 billion shares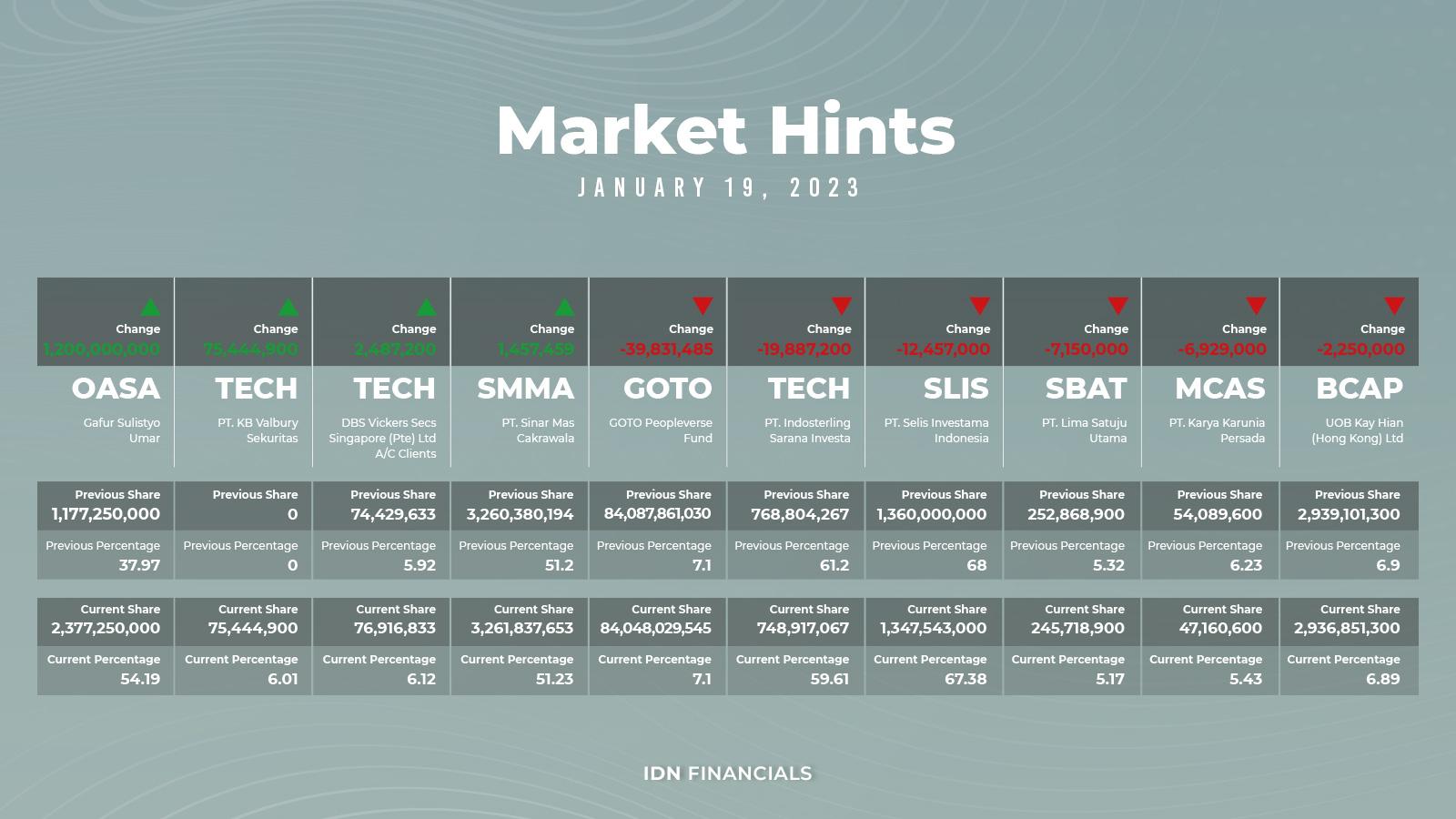 BCAP - PT. MNC Kapital Indonesia Tbk
Rp 51
JAKARTA - Bobby Gafur Umar alias Gafur Sulistyo Umar added another 1.2 billion shares of PT Maharaksa Biru Energi Tbk (OASA) on Thursday, January 19, after claiming back 980 million OASA shares the day before. The ownership of the issuer's president increased from 37.97% to 54.19%, making Boby Gafur Umar the majority shareholder, once again. Moreover, PT Sinar Mas Cakrawala was also seen buying 1.45 million shares of its subsidiary, PT Sinar Mas Multiartha Tbk (SMMA).

Next, PT IndoSterling Technomedia Tbk (TECH) shares were recently acquired by a new investor, PT KB Valbury Sekuritas, with a volume of 75.44 million shares, or approximately 6.01% ownership. Nonetheless, two other investors dumped TECH shares: BDS Vickers Secs Singapore (Pte) Ltd. released 2.48 million shares, while PT Indosterling Sarana Investa sold 19.88 million.

PT Selis Investama Indonesia was also seen selling 12.45 million shares of PT Gaya Abadi Sempurna Tbk (SLIS), followed by PT Lima Satuju Utama's sale of 7,150,000 shares of PT Sejahtera Bintang Abadi Textile Tbk (SBAT), and immediately followed by PT Karya Karunia Persada, which released 6,929,000 shares of PT M Cash Integrasi (MCAS). From the foreign divestment table, GOTO Peopleverse Fund is also seen selling as many as 39.83 million shares of PT GoTo Gojek Tokopedia Tbk (GOTO), and it closed with the sale of 2,250,000 shares of PT MNC Kapital Indonesia Tbk (BCAP) by UOB Kay Hian (Hong Kong) Ltd. (KD)

Updated market hint information is available only at IDN Financials!