Foreign trade volume fell, but net foreign trade remained positive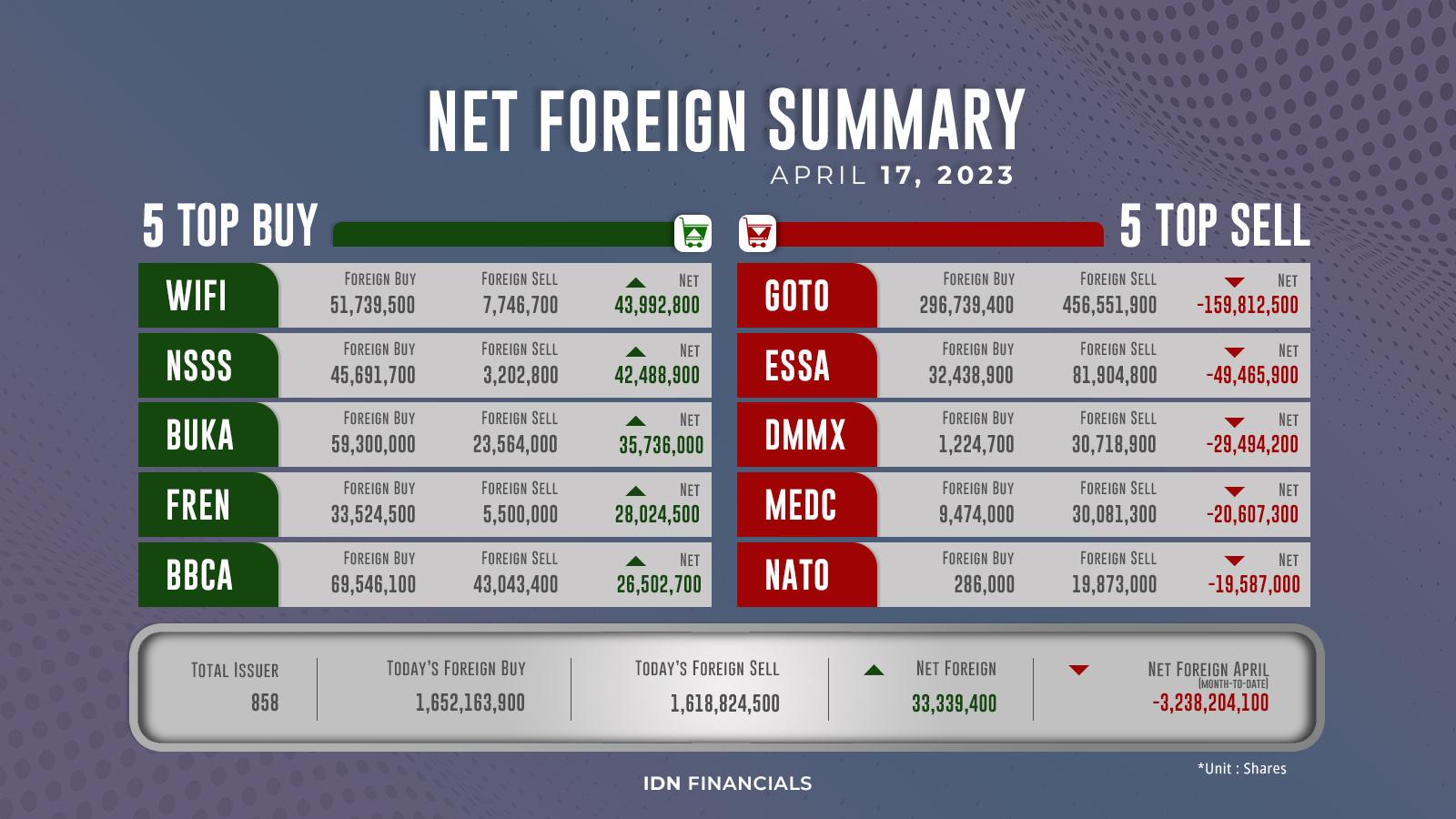 MEDC - PT. Medco Energi Internasional Tbk
Rp 1.600
JAKARTA - On Monday, April 17, the volume of shares traded by foreign investors was lower than usual, with 1.65 billion shares purchased and 1.61 billion shares sold. Despite a decrease, foreign net volume remained positive at 33,339,400 sheets, continuing to be in the green zone. This time, technology issuer PT Solusi Sinergi Digital Tbk (WIFI) reported the highest net volume with 43.99 million shares, after foreign investors purchased 51.73 million WIFI shares. Meanwhile, PT GoTo Gojek Tokopedia Tbk (GOTO) reported the lowest net volume with -159.81 million shares, after foreign investors sold more than 456.55 million GOTO shares.

Furthermore, foreigners purchased 45.69 million shares of PT Nusantara Sawit Sejahtera Tbk (NSSS), and it received a net volume of 42.48 million, the second highest after WIFI. Following that, PT Bukalapak.com Tbk (BUKA) reported a net volume of 35.73 million shares, with a foreign purchase volume of 59.30 million. PT Smartfren Telecom Tbk (FREN) and PT Bank Central Asia Tbk (BBCA) had net volumes that were quite similar, with 28.02 million FREN and 26.50 million BBCA, despite the fact that the two issuers had very different purchase volumes. According to reports, foreign investors purchased 33.52 million FREN shares and nearly 70 million BBCA shares.

Foreigners, on the other hand, sold 81.90 million shares of PT Surya Esa Perkasa Tbk (ESSA) shares. With -49.46 million shares, ESSA had the second-lowest net volume after GOTO. Foreign investors also sold approximately 30 million shares each of PT Digital Mediatama Maxima Tbk (DMMX) and PT Medco Energi Internasional Tbk (MEDC). DMMX's net volume was nearly 30 million shares in the negative, while MEDC's was around -20.60 million. Finally, foreigners released 19.87 million shares of PT Surya Permata Andalan Tbk (NATO) with a very small purchase volume. As a result, NATO's net volume is down around -19.58 million shares this time. (KD)

Always update net foreign news at IDNFinancials!