The stock market reopened, and net foreign jumped to 778 million shares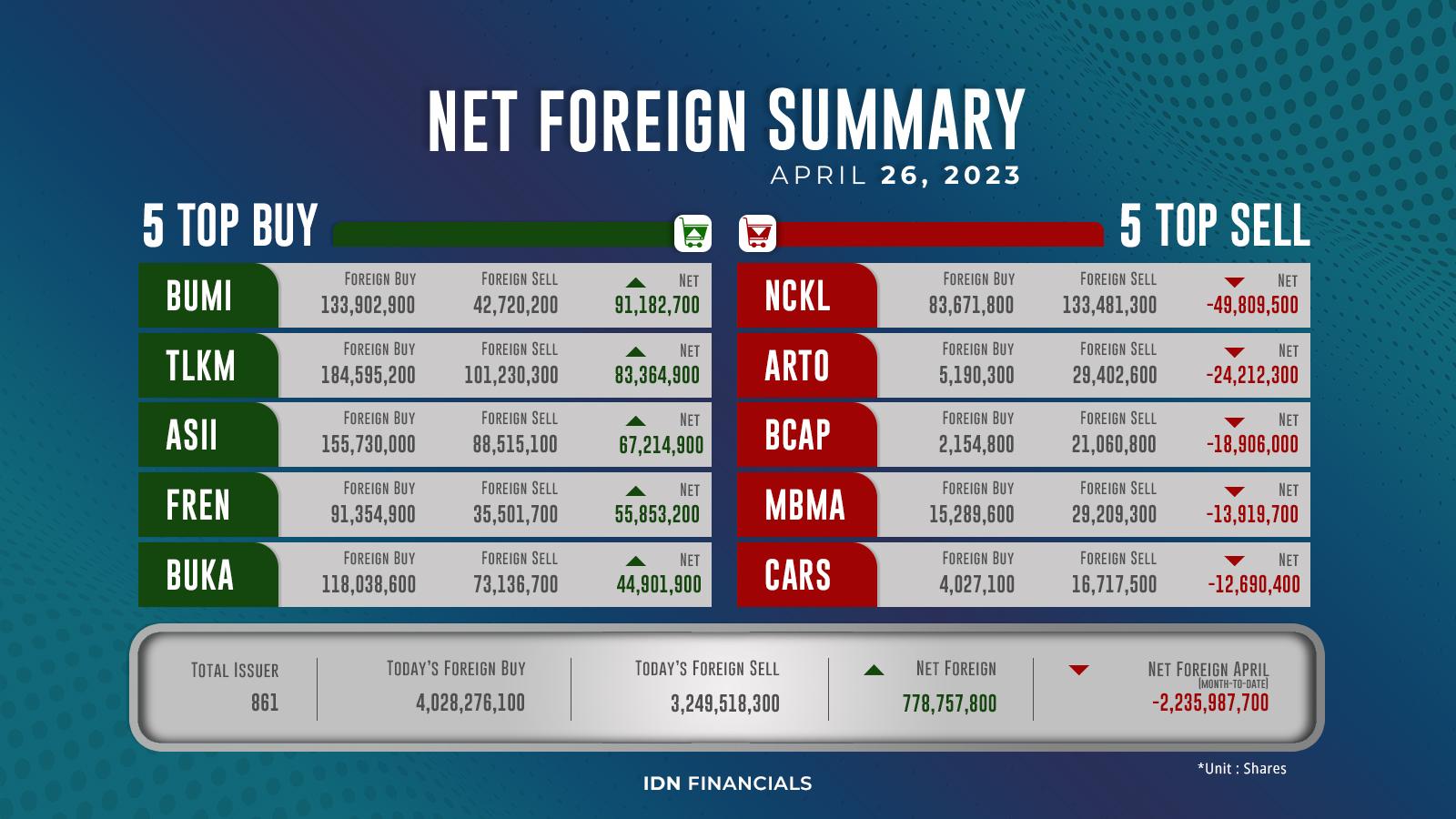 BUMI - PT. Bumi Resources Tbk
Rp 138
JAKARTA - The stock market reopened on Wednesday, April 26, 2023, after being closed during the Eid joint holidays. The net foreign volume immediately jumped to 778,757,800, with foreign investors purchasing 4.02 billion shares and selling 3.24 billion shares. They purchased as many as 133.90 million shares of PT Bumi Resources Tbk (BUMI), which became the shares with the highest net volume at 91.18 million. Meanwhile, they also sold 133.48 million shares of PT Trimegah Bangun Persada Tbk (NCKL) this time, with the lowest net volume at -49.80 million shares.

Foreign investors, in fact, purchased more shares of PT Telkom Indonesia (Persero) Tbk (TLKM) and PT Astra International Tbk (ASII) than BUMI, namely 184.59 million TLKM, and 155.73 million ASII. However, with 83.36 million TLKM and 67.21 million ASII, both net volumes remain below BUMI. Furthermore, the net volume of PT Smartfren Telecom Tbk (FREN) closed at 55.85 million, with 91.35 million shares purchased. Also, foreign investors purchased 118.03 million shares of PT Bukalapak.com Tbk (BUKA), even though the net volume was only around 44.90 million shares.

The net volume of subsequent issuers in the top sell line, on the other hand, is not lower than -25 million shares. PT Bank Jago Tbk (ARTO) reported a net volume of -24.21 million shares, with nearly 30 million shares sold to foreign markets. Foreign investors then released 21.06 million shares of PT MNC Kapital Indonesia Tbk (BCAP), bringing the issuer's net volume to around -18.90 million shares. Finally, the net volumes of PT Merdeka Battery Materials (MBMA) and PT Industri and Perdagangan Bintraco Dharma Tbk (CARS) were around minus 12-13 million shares, with foreign sales volumes of 29.20 million MBMA and 16.71 million CARS, respectively. (KD)

Update net foreign information only at IDNFinancials!