Honoris Corporindo now owns 25% of Modernland Realty (MDLN) after purchasing 1 billion shares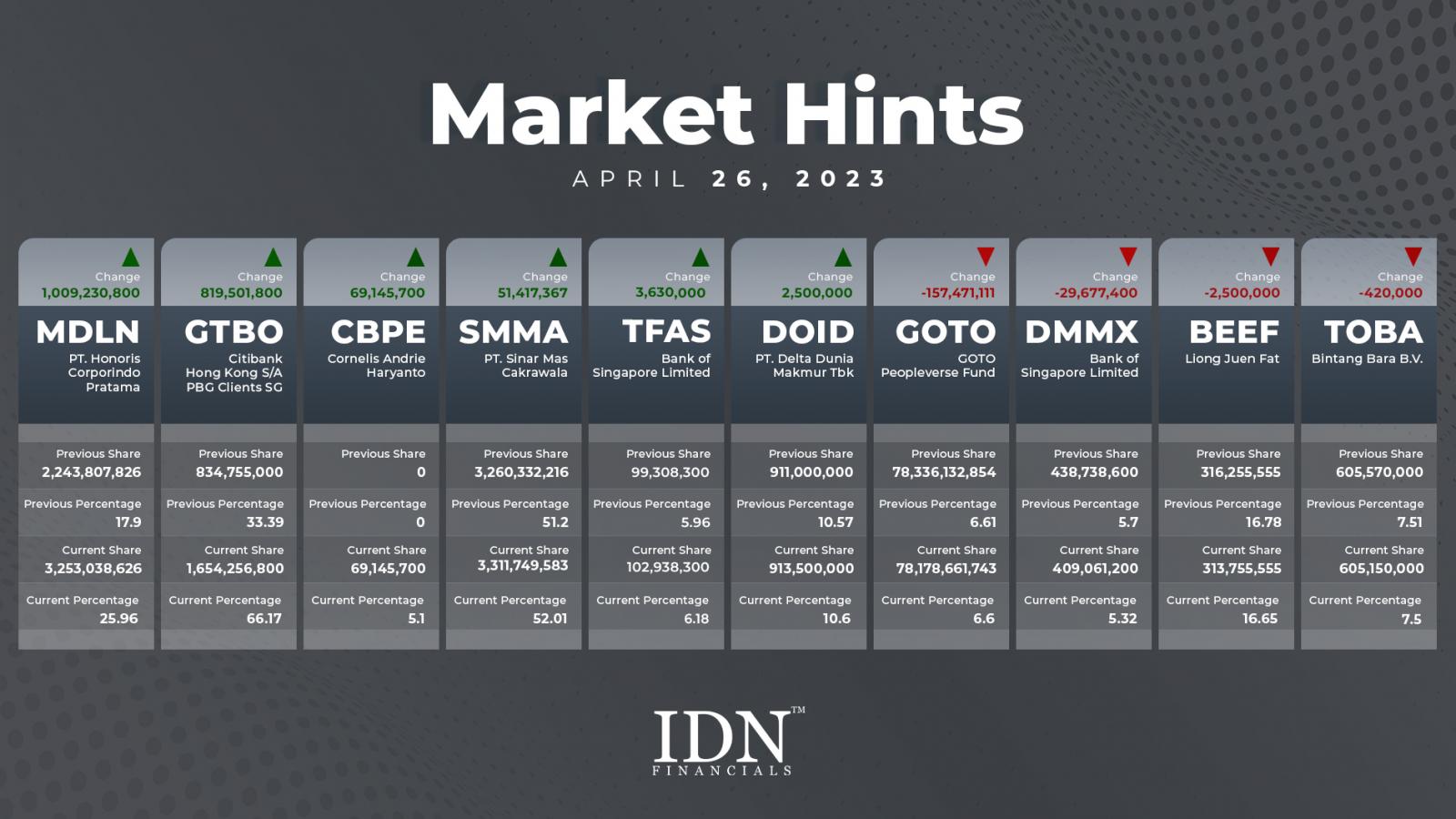 DOID - PT. Delta Dunia Makmur Tbk
Rp 444
JAKARTA - The stock market reopened on Wednesday, April 26, following the 2023 Eid joint holiday. PT Honoris Corporindo Pratama made headlines after purchasing 1,009,230,800 shares of property issuer PT Modernland Realty Tbk (MDLN). There was no half-heartedness; Honoris Corporindo's ownership immediately jumped from 17.9% to 25.96%. Citibank Hong Kong increased its stake in PT Garda Tujuh Buana Tbk (GTBO) significantly as well. This foreign investor added 819.50 million GTBO shares to its portfolio, boosting its stake in this coal mining company from 33.39% to 66.17%.

Moreover, PT Citra Buana Prasida Tbk (CBPE) has welcomed Cornelis Andrie Haryanto as a new investor with a 5.1% stake. According to reports, this individual investor recently purchased 9.14 million CBPE shares. PT Sinar Mas Multiartha Tbk (SMMA)'s parent company, PT Sinar Mas Cakrawala, also increased its influence over this financial service provider issuer by purchasing another 51.41 million SMMA shares. Furthermore, PT Delta Dunia Makmur (DOID) bought back 2.5 million shares.

Another foreign investor, the Bank of Singapore, has been seen actively buying and selling shares. This Singapore-based private bank purchased 3.3 million shares of supply chain management issuer PT Telefast Indonesia Tbk (TFAS) but sold 29.67 million shares of PT Digital Mediatama Maxima Tbk (DMMX), a digital content provider.

GOTO Peopleverse Fund then remains at the forefront of divestment efforts, having released 157.4 million shares of PT GoTo Gojek Tokopedia Tbk (GOTO). Bintang Bara B.V., a Dutch-based foreign investor, also sold 420 thousand shares of renewable energy issuer PT TBS Energi Utama Tbk (TOBA). Finally, Liong Juen Fat is the only domestic shareholder with a stake of more than 5% who sold shares, namely 2.5 million shares in livestock issuer PT Estika Tata Tiara Tbk (BEEF). (KD)

Find the latest market hints and information at IDNFinancials!