DBS Bank holds 13.73% of Mega Manunggal Property after purchasing 945 million shares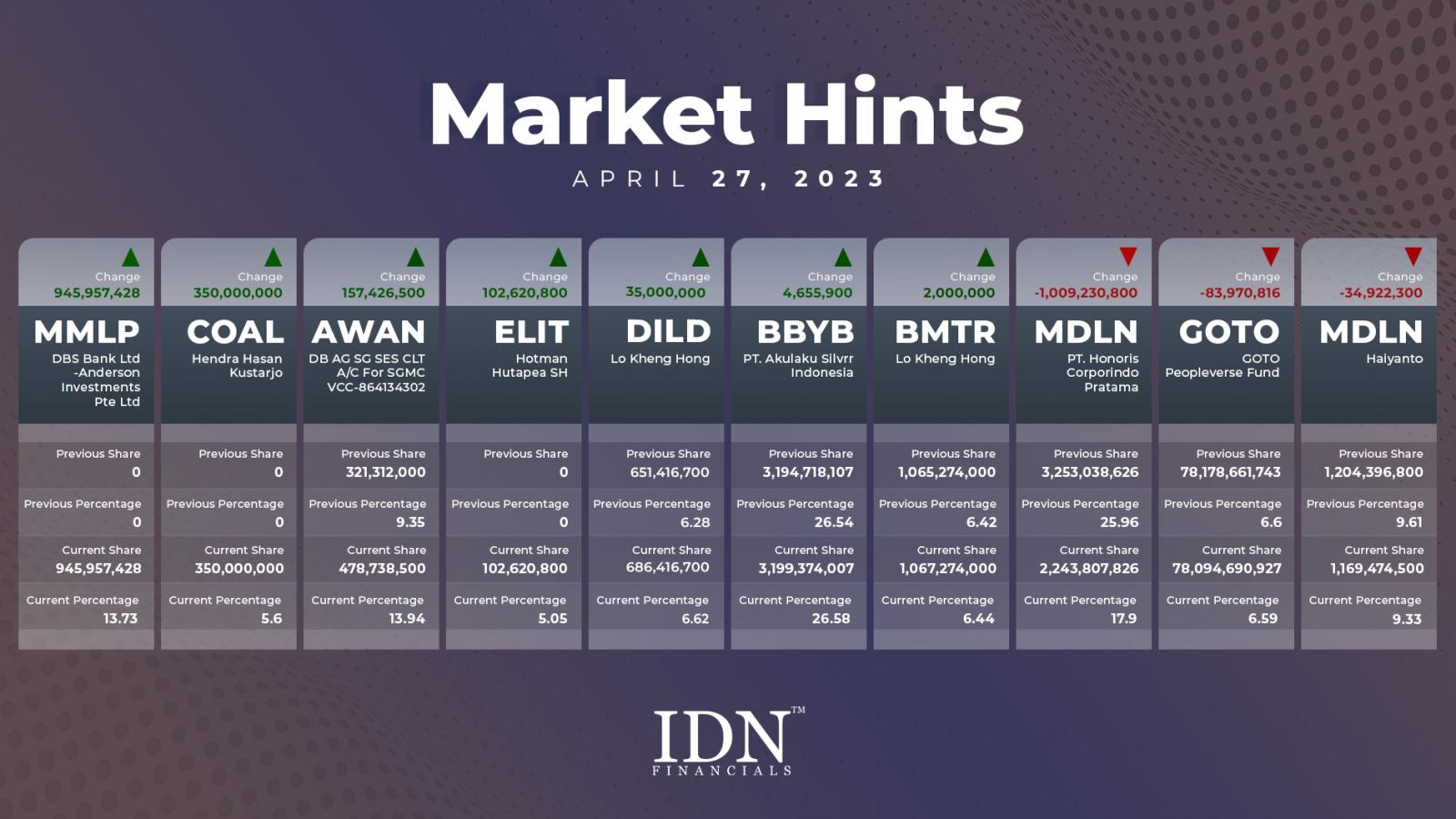 DILD - PT. Intiland Development Tbk
Rp 206
JAKARTA - A Singapore-based bank, DBS Bank, bought up 945.95 million shares of property issuer PT Mega Manunggal Property Tbk (MMLP) on Wednesday, April 27. The bank is the most recent investor, controlling 13.73% of MMLP through the DBS Bank Ltd.-Anderson Investments Pte Ltd. account. In addition, two new individuals joined the list of investors with more than 5% ownership. First, Hendra Hasan Kustarjo recently purchased 350 million shares of coal mining company PT Black Diamond Resources Tbk (COAL) for a 5.6% stake, and Hotman Hutapea SH now owns 5.05% of PT Data Sinergitama Jaya Tbk (ELIT) after purchasing 102.62 million ELIT shares.

Moreover, Deutsche Bank AG Singapore purchased 157.42 million shares of PT Era Digital Media Tbk (AWAN), and PT Akulaku Silvrr Indonesia purchased 4.65 million shares of PT Bank Neo Commerce Tbk (BBYB). Individual investor Lo Kheng Hong was also seen adding to his stock portfolio, not just in one but in two companies. The individual investor, who is often referred to as Indonesia's Warren Buffet, purchased 35 million shares of property developer PT Intiland Development Tbk (DILD) and 2 million shares of media company PT Global Mediacom Tbk (BMTR).

PT Honoris Corporindo Pratama, on the other hand, sold 1,009,230,800 shares of PT Modernland Realty Tbk (MDLN), which had only been claimed the day before. In addition, another MDLN investor, Haiyanto, sold 34.92 million shares. Finally, it was time for the GOTO Peopleverse Fund to sell 83.97 million shares of PT GoTo Gojek Tokopedia Tbk (GOTO). (KD)

IDNFinancials is the only place to get market news and hints!