Solusi Karya Sukses now owns 5.08% of Astrindo Nusantara (BIPI) with 2.93 billion shares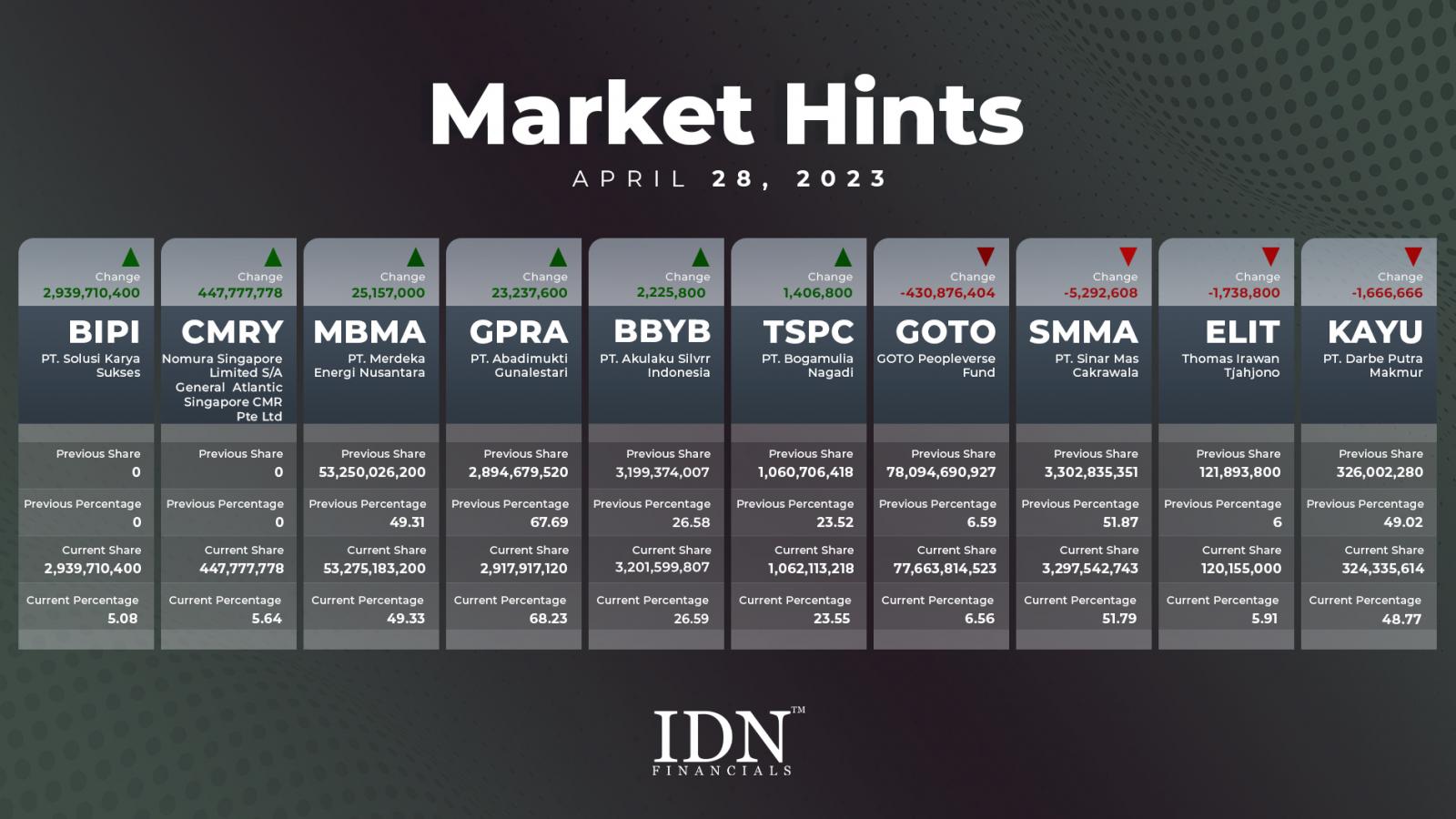 BIPI - PT. Astrindo Nusantara Infrastruktur Tbk
Rp 111
JAKARTA - On Wednesday, April 28, PT Solusi Karya Sukses became a new investor in mining infrastructure operator PT Astrindo Nusantara Infrastruktur Tbk (BIPI). The company's purchase was also impressive, totaling 2,939,710,400 shares for a 5.08% ownership stake. In addition, a new investor from Singapore joined PT Cisarua Mountain Dairy Tbk (CMRY), a milk production and processing company. Nomura Singapore Limited S/A General Atlantic Singapore CMR Pte Ltd recently purchased 447,777,778 shares of CMRY, giving it a 5.64% stake.

The option to increase the number of shares was also provided to PT Merdeka Energi Nusantara, which purchased 25.15 million shares from PT Merdeka Battery Materials Tbk (MBMA), and PT Abadimukti Gunalestari, which bought 23.23 million shares from PT Perdana Gapura Prima Tbk (GPRA), a developer of real estate. In smaller scopes, PT Akulaku Silvrr Indonesia invested 2.22 million shares in PT Bank Neo Commerce Tbk (BBYB), and PT Bogamulia Nagadi invested another 1.40 million shares in PT Tempo Scan Pacific Tbk (TSPC).

The GOTO Peopleverse Fund, on the other hand, is still divesting, having sold 430.87 million shares of PT GoTo Gojek Tokopedia Tbk (GOTO). PT Sinar Mas Cakrawala then released 5.29 million shares of its subsidiary, PT Sinar Mas Multiartha Tbk (SMMA), while PT Darbe Putra Makmur released 1.66 million shares of lumber issuer PT Darmi Bersaudara Tbk. (KAYU). Finally, Thomas Irawan Tjahjono, an individual investor, was seen releasing 1.73 million shares in virtual data center provider PT Data Sinergitama Jaya Tbk (ELIT). (KD)

Continue reading for market insights from IDNFinancials!