STIC purchased 31.76% of Bank KB Bukopin (BBKP) through a right issue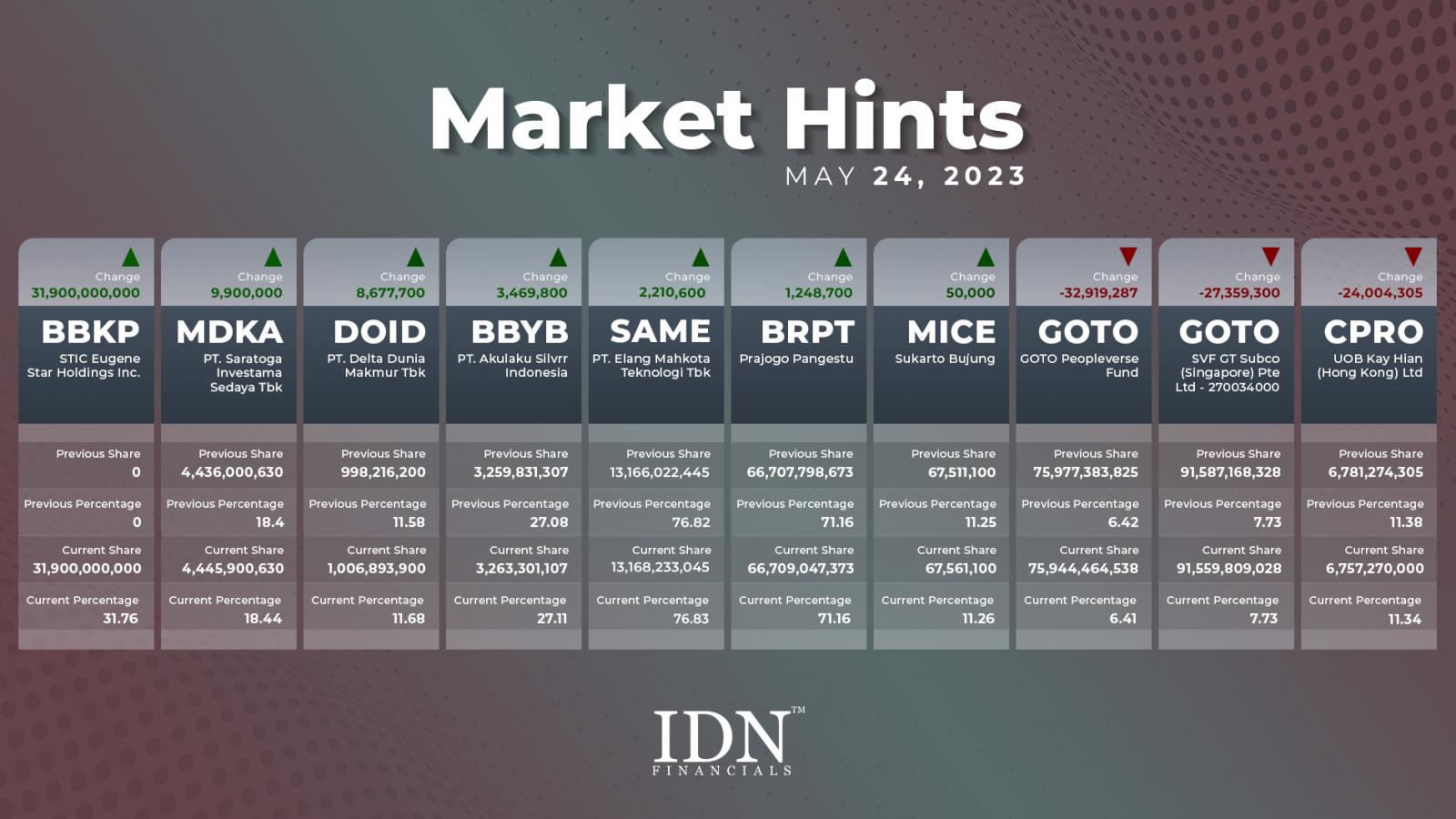 DOID - PT. Delta Dunia Makmur Tbk
Rp 494
JAKARTA - STIC Eugene Star Holdings Inc. provided additional funding to PT Bank KB Bukopin Tbk (BBKP) on May 24 through a rights issue. With the acquisition of these shares, STIC now owns 31.9 billion shares of the bank, which is a subsidiary of South Korea's Kookmin Bank, representing a stake of approximately 31.76%.

PT Saratoga Investama Sedaya Tbk, which purchased 9.9 million shares of mineral mining issuer PT Merdeka Copper Gold Tbk (MDKA), had the option of investing, as did the mining parent company PT Delta Dunia Makmur Tbk (DOID), which was still buying back 8.67 million DOID shares. PT Akulaku Silvrr Indonesia was also interested in 3.46 million private bank shares of PT Bank Neo Commerce Tbk (BBYB), and PT Elang Mahkota Teknologi Tbk recently purchased an additional 2.21 million shares of hospital issuer PT Sarana Meditama Metropolitan Tbk (SAME).

This time around, two significant individual investors are also seen adding shares. Businessman and owner of the Barito Pacific Group Prajogo Pangestu made the decision to purchase 1.24 million additional shares from energy issuer PT Barito Pacific Tbk (BRPT), and Sukarto Bujung, a rice businessman from Palembang, purchased 50,000 shares from health and cosmetics issuer PT Multi Indocitra Tbk (MICE).

Two foreign investors, PT GoTo Gojek Tokopedia Tbk (GOTO), were resuming their divestment efforts in the meantime. GOTO Peopleverse Fund sold 32.91 million shares of GOTO, while 27.35 million were sold by SVF GT Subco (Singapore) Pte Ltd. Finally, 24 million shares were also sold by foreign investors from the aquaculture issuer PT Central Proteina Prima Tbk (CPRO), namely UOB Kay Hian (Hong Kong) Ltd. (KD)

Find market news and hints only at IDNFinancials!