Valent Pratama gained his stake in Darmi Bersaudara (KAYU) by 5.63% after purchasing 37.44 million shares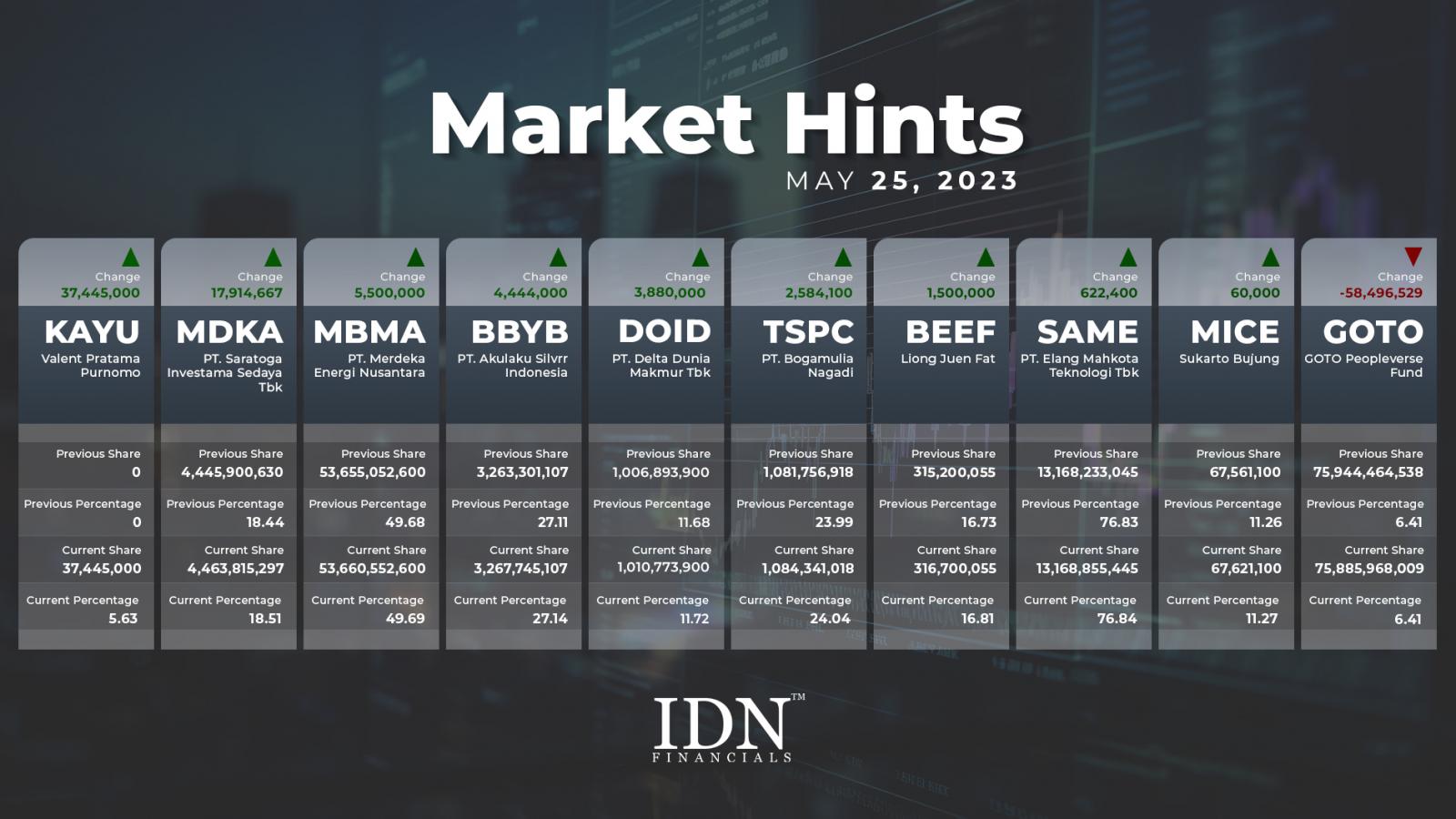 DOID - PT. Delta Dunia Makmur Tbk
Rp 358
JAKARTA - PT Darmi Bersaudara Tbk (KAYU) has just had one individual investor join, and he currently owns 5.63% of the company. On May 25, an investor named Valent Pratama Purnomo reportedly purchased 37.44 million shares of the company that deals in wood processing. Two additional individual investors also made moves to increase their holdings, namely Liong Juen Fat, who purchased 1.5 million additional shares in the beef producer PT Estika Tata Tiara Tbk (BEEF), and Sukarto Bujung, who added another 60,000 shares of the health and cosmetics issuer PT Multi Indocitra Tbk (MICE) to his investment.

PT Saratoga Investama Sedaya Tbk also chose to increase its holdings by purchasing 17.91 million shares of mineral mining issuer PT Merdeka Copper Gold Tbk (MDKA). Next, PT Merdeka Energi Nusantara purchased 5.5 million shares of issuer PT Merdeka Battery Materials Tbk (MBMA), a manufacturer of electric vehicle batteries.

PT Delta Dunia Makmur (DOID), a mining holding company, also kept reserving its own shares, though this time it was only 3.88 million shares. The controlling shareholder, PT Elang Mahkota Teknologi Tbk, then increased its stake in PT Sarana Meditama Metropolitan Tbk (SAME) by 622,400 shares, while PT Boga Mulia Nagadi strengthened its stake after purchasing 2.58 million shares of pharmaceutical issuer PT Tempo Scan Pacific Tbk (TSPC).

Finally, the only shareholder with a holding of more than 5% who sold shares significantly this time was GOTO Peopleverse Fund. Approximately 58.49 million shares of PT GoTo Gojek Tokopedia Tbk (GOTO), the issuer of an on-demand service provider, were sold, though the ownership percentage did not significantly change as a result. (KD)

Visit IDNFinancials to access the most recent market insights and hints!