Two foreign investors sold nearly 65 million GOTO shares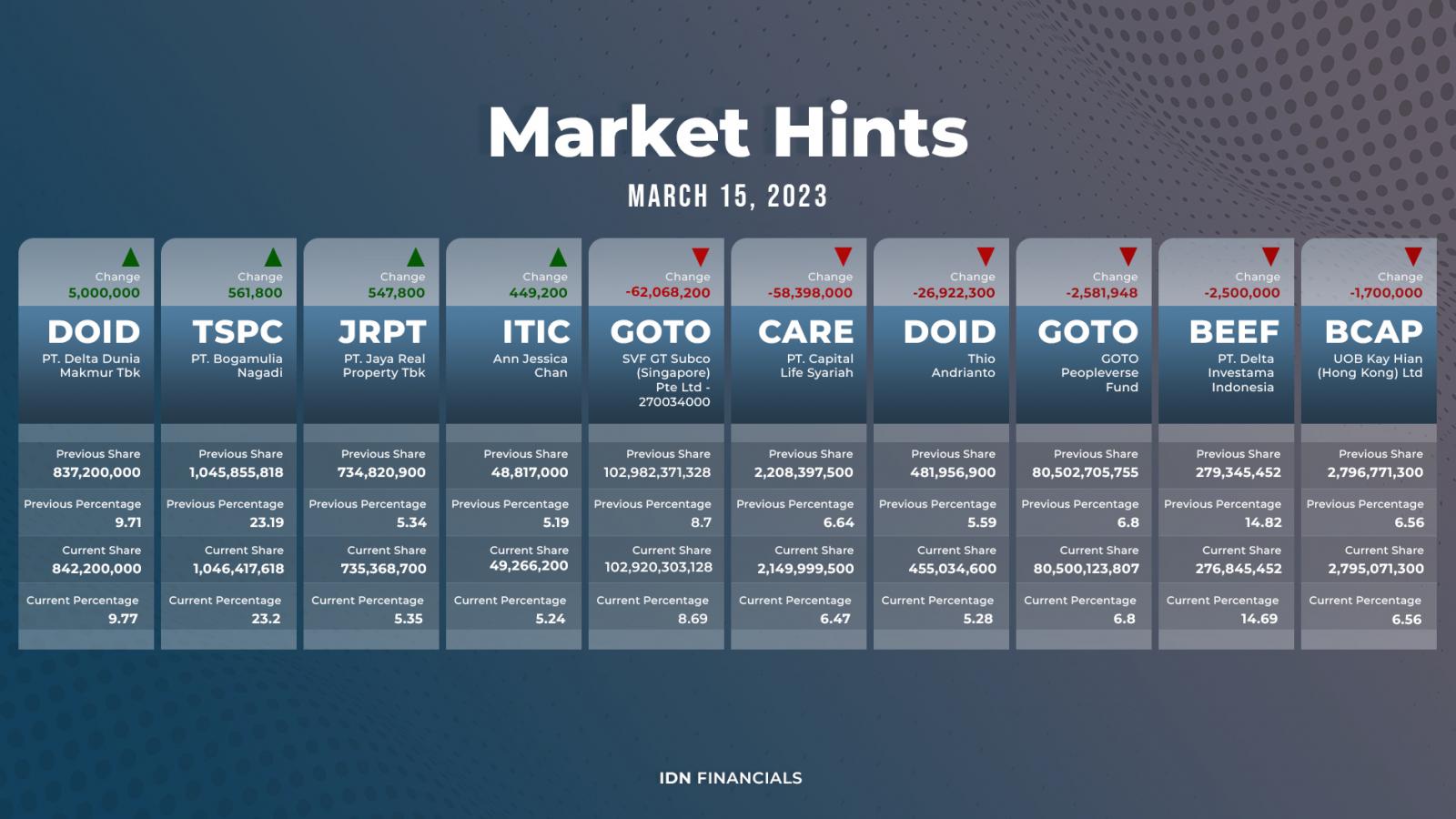 DOID - PT. Delta Dunia Makmur Tbk
Rp 444
JAKARTA - On March 15, two foreign investors who own more than 5% of the company were seen selling nearly 65 million shares of PT GoTo Gojek Tokopedia Tbk (GOTO). SVF GT Subco (Singapore) Pte Ltd sold 62.06 million shares, while GOTO Peopleverse Fund dumped approximately 2.58 million. The sales of these shares have no significant impact on the two investors' ownership proportions.

Furthermore, PT Capital Life Syariah sold 58.39 million shares of the hospital's management company, PT Metro Healthcare Indonesia Tbk (CARE). Then, PT Delta Investama Indonesia sold exactly 2.5 million shares of the beef producer PT Estika Tata Tiara Tbk (BEEF). Following that, UOB Kay Hian (Hong Kong) Ltd., a foreign investor, divested 1.7 million shares of the financial issuer PT MNC Kapital Indonesia Tbk (BCAP).

Furthermore, two investors owning more than 5% of PT Delta Dunia Makmur Tbk (DOID) traded the shares. Thio Andrianto, an individual investor, sold 26.92 million DOID shares, while the company bought back 5 million of its own. PT Jaya Real Property Tbk (JRPT), a property issuer that manages Bintaro Jaya City, also took part in the buyback, purchasing 547,800 JRPT shares. Aside from that, PT Bogamulia Nagadi purchased 561,800 shares of PT Tempo Scan Pacific Tbk (TSPC), while individual investor Ann Jessica Chan added 449,200 shares of cigarette producer PT Indonesian Tobacco Tbk (ITIC) to her portfolio. (KD)

Find the best market news and hints on IDN Financials!