Bank Jatim scores significant credit growth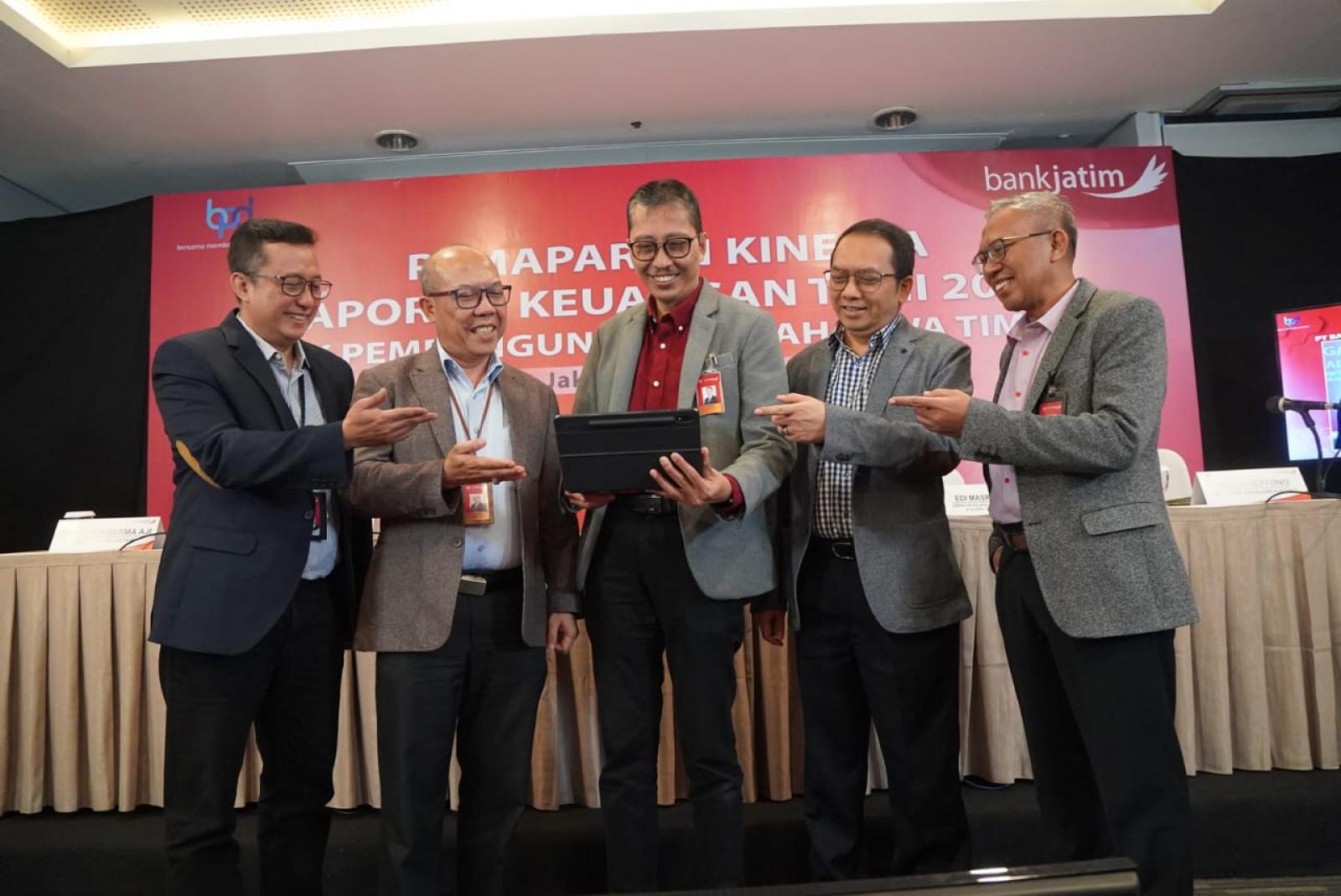 BJTM - PT. Bank Pembangunan Daerah Jawa Timur Tbk
Rp 625
JAKARTA – Amidst the ever-increasing competition in the banking industry, PT Bank Pembangunan Daerah Jawa Timur Tbk (BJTM) continues to show positive performance. Located in Indonesia Stock Exchange (IDX) Building, Bank Jatim held an analyst meeting to reveal its H1 2023 performance as a way of information disclosure last Tuesday (25/7).
The analyst meeting was joined by the Board of Directors of Bank Jatim, consisting of Busrul Iman, President Director; Edi Masrianto, Director of Finance, Treasury, and Global Services; R. Arief Wicaksono, Director of Micro, Retail, and Middle Business; and Eko Susetyono, Director of Risk Management.
Iman said that Bank Jatim managed to conclude the first half of 2023 with a decent performance. Throughout the first half, Bank Jatim's credit channelling managed to attain a significant, above-average increase of 13.02% year-on-year (yoy). The highest jump was seen in the commercial and SME credits, amounting to 25.55% yoy, as well as the consumer credit of 5.77% yoy.
According to Iman, the access for financing for business players shall be offered as much as possible in order to generate new business and work opportunities. Therefore, it could lead to social welfare. "The growth of credit channelling reflects an economy that properly works and indicates increases in demands for goods and services from the public," he explained.
The credit growth secured by Bank Jatim also improves its LDR, from 45.88% in H1 2022 to 59.54% in H1 2023. Bank Jatim's credit growth is followed by an improvement in its credit quality, as indicated by its loan-at-risk (LAR) ratio that declined to 5.77% in H1 2023 from 6.86% in H1 2022. Its gross non-performing loan (NPL) also shrank to 2.80% in h1 2023 from 4.12% in the same period last year. "The decline in NPL and LAR ratio shows that the credit quality of Bank Jatim is becoming healthier, and thus becoming the sign of recovery of several economic sectors," he said.
According to Iman, Bank Jatim has gone back to basic as a trusted intermediary agent, particularly in East Java, and will continue to be one of the drives behind regional economy through credit channelling in the productive and consumption sector, whose composition continues to balance out one another.
In addition to this, the digital banking of Bank Jatim also demonstrates an increase. JConnect, throughout the first half, had generated positive numbers. The users of JConnect Mobile in the first half of 2023 had reached 566 thousand, growing 30% yoy. Meanwhile, its transactions arrived at IDR 3.4 trillion, 35% higher compared to the numbers in H1 2022.
Then, the users of JConnect IB Corporate arrived at 7,550, also increasing 23% yoy, with a total transaction of IDR 853 billion. Furthermore, the Jatim Agents in H1 2023 had scored 4,853 users, growing 30% yoy, with a total transaction of IDR 7.2 billion.
"Our QRIS merchants had reached 90,403, also proliferating 61% yoy with a total transaction of IDR 56 billion, 76% higher compared to the same period last year. JConnect Loan also shifted positively and had been used to process 12,300 credit approval out of 16,500 credit requests," Iman listed further.
He further mentioned that Bank Jatim is consistently implementing various transformations to achieve business acceleration. There will be five transformations that will be initiated by this issuer with BJTM as its ticker code. They include the organisational transformation to support the company's business by aggressively increasing the number of Account Officers (AO) and Funding Officers (FO), as well as segmenting the users.
"The growth of our AO and FO is massive. In H1 2022, our AO only consisted of 90 people. However, in H1 2023, the number soared to 405 people. These numbers indicate 350% surge," Iman added. Then, the number of FO in H1 2022 was only 556 people. Then, in H1 2023, it grew to 968 people, meaning that there was a 74.10% increase.
Furthermore, Bank Jatim also transforms its human capital with several initiatives. They include employment through Jatim Internship Program (JIP), Office Development Program (ODP), General Banking, IT Staff, sampai Senior Executive Vice President (SEVP). Then, Bank Jatim also offers facilities and benefits to employees through motorcycle benefit program to enhance productivity.
The transformation of rule-making rules also does not escape Bank Jatim's attention. The company has updated its internal regulations and several of its policies. "We had also executed IT & digital banking transformations, as well as arranging a corporate action, marked with our formation of Bank Business Group with Bank NTB Syariah," Iman said.
On top of this positive performance, throughout the first half of 2023, Bank Jatim also managed to seize many awards from many events. They include 6th Infobank MRI Satisfaction, Loyalty, Engagement and Corporate Reputation Award 2023, Indonesia Best BUMD Awards 2023, Indonesia Public Relation Awards 2023, Obsession Awards 2023, Sustainability Report Study of Public Companies in Indonesia 2021, Digitech Awards 2023, TOP BUMD Awards 2023, 20th Infobank – MRI Banking Service Excellence (BSE) Awards 2023, and the Launching of Indeks Tempo-IDN Financials 52. (BJTM/ZH)